New 2018 Ariel Atom3 RS – 425PS – Powerful Production !
am: 03.04.2018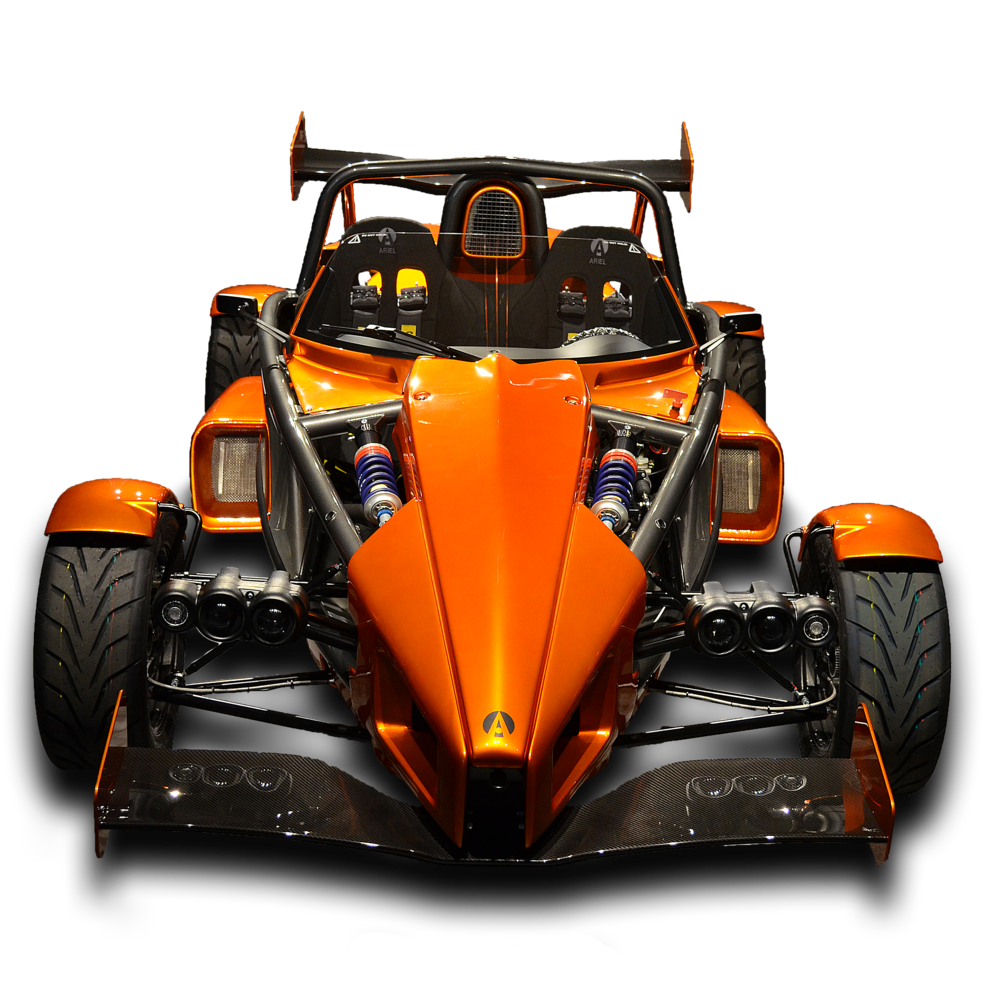 425 BHP
The most powerful Production Ariel

The Ariel Atom 3RS –

119.995,-

Die mächtigste Produktion Ariels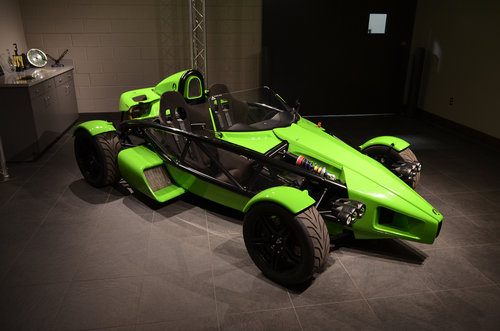 Willkommen an der Spitze …
Der Ariel Atom 3RS nimmt alles, was wir mit dem Atom 3S geliebt haben, und kurbelt ihn an. Geführt von Rückmeldungen und Anfragen unserer
Die Kunden stellten uns eine Checkliste für den "Fahrerstand" zur Verfügung. Wie Sie erwarten können, wurde die Performance immer größer!
Der neue Atom 3RS bietet ein Motorpaket mit geschmiedeten Kolben, die an H-Träger-Verbindungsstangen Pleuel befestigt sind, die mit ARP-Stangenschrauben befestigt sind. Werkzeugstahlkopfbolzen arbeiten, um den Kopf effektiv mit Hilfe einer MLS-Dichtung zu klemmen. Ein kurzer Lufteinlass sorgt für verbesserte Fahreigenschaften und leitet den Strom vom Borg Warner Turbolader. Ein größerer Luft: Wasser-Ladeluftkühler bietet eine höhere Kühlkapazität für die Ansaugladung und sorgt gleichzeitig dafür, dass die Kühler sauber in aerodynamischen Seitenkästen verstaut w
erden. Eine umfangreiche Abstimmungsphase auf Prüfstand, Rennstrecke und offenen Straßenermöglichte maximale Gewinne aus dem neuen Motor Einbauten.
Atom 3RS Specifications

Performance
1450 lbs

425 bhp

• 365 lbs/ft
Starting

at $119,995
Length: 3410mm
Height: 1195mm
Width: 1890mm
Track: 1600mm
Wheelbase: 2345mm
Atom 3RS Engine Performance Package – Turbocharged 2.4L Honda – 425 bhp/365 lb/ft
Forged Pistons w/Performance Spec Rings
H-Beam Connecting Rods
Performance Spec Headgasket & Studs
Performance Spec Air:Water Intercooler & Piping
Short Run Intake Manifold
Atom 3RS Transmission Performance Package – Honda 6-Speed Manual
Forged Performance Ratio Gearsets
Lightweight Aluminium Flywheel
Atom 3RS Motor Leistungspaket –
Turbolader 2.4L Honda-425 PS/365 lb/ ft – Schmiedekolben mit Performance Spec Ringen , H-Pleuel Performance Spec Kopfdichtung und StollenLeistungsspezifikation Luft: Wasser Intercooler & PipingKurzer AnsaugkrümmerAtom 3RS Getriebe Leistungspaket – Honda 6-Speed ManualGeschmiedete Performance Ratio ZahnräderLeichtes Aluminium-Schwungrad
Brakes
Alcon Motorsport Four-Piston Calipers
290mm Alcon Big Brake Kit w/Floating Vented Discs
Cockpit Adjustable Front/Rear Brake Bias
Tilton Adjustable Aluminum Pedal Box
Tilton Paired Front/Rear Master Cylinders
Full Length Stainless Steel Brake Lines
Performance Pad Fiction Material
Parking Brake Kit Standard
Alcon Motorsport Vierkolben-Bremssättel
290mm Alcon Big Brake Kit mit schwimmenden belüfteten Scheiben
Cockpit einstellbare Vorder- / Hinterradbremse
Tilton verstellbare Aluminium Pedal Box
Tilton gepaarten vorderen / hinteren Master Zylinder
Edelstahl-Bremsleitungen in voller Länge
Performance-Pad-Fiktionsmaterial
Parkbremskit Standard
---
Atom 3RS Signature Wheel Package Atom 3RS Signaturradpaket Räder – Fünf Loch,
Wheels – Five Lug, Wide-5 Spoke Design F:16×7″ R:17×9″ (Satin Black) Wide-5 Speichen Design F: 16×7 "R: 17×9" (Satin Black)
Tires – Toyo R888R F:205/45/16 R: 255/40/17 Reifen – Toyo R888R F: 205/45/16 R255/40/17
Signature Sport Seating
Individuelle Sitzplätze
Marine Grade Kunstleder
Diamant / Q-Citura Center Stitching
Unterschrift Rote Nähte
Unterschrift rot gestickte Kopfstütze Logo
4-Punkt-Gurte Standard
6-Punkt HANS Specific Harness verfügbar
Individual SeatingMarine Grade Leatherette
Diamond/Q-Citura Center Stitching
Signature Red Stitching
Signature Red Embroidered Headrest Logo
4-Point Harnesses Standard
6-Point HANS Specific Harnesses availible
Atom 3RS Suspension Performance Package – JRi
JRi Double Adjustable (Compression & Rebound) Dampers w/2-Piece Springs
Double unequal length fabricated wishbones
Aluminum bell cranks w/ needle roller bearings
Adjustable suspension pushrods
Adjustable inboard joint and outboard rod ends
Lightweight fabricated uprights
Quick Ratio alloy Rack & Pinion
Quick-Release motorsport suede steering wheel
Atom 3RS Suspension Leistungspaket – JRiJRi
Double einstellbare (Compression & Rebound) Dämpfer mit 2-teiligen Federn
Doppelquerlenker mit ungleicher Länge
Aluminium-Winkelhebel mit Nadellager
Einstellbare Stoßstangen für die Aufhängung
Einstellbares Innengelenk und außenliegende Stangenenden
Leichtbau-Pfosten
Quick Ratio Legierung Rack & Pinion
Schnellwechsel-Wildleder-Lenkrad aus Wildleder
---
Traction Control – Five level adjustment (incl. off)
LCD back lit digital dash with speed, RPM, temperature, fuel level, odometer, gear position, and shift-light display
Competition master safety switch
RFID Electronic Immobilizer System (two fobs)
Full light Package Standard
Traktionskontrolle – Fünfstufige Anpassung (inkl. Aus)
LCD-
Hintergrundbeleuchtetes digitales Armaturenbrett mit Geschwindigkeit, Drehzahl, Temperatur, Kraftstoffstand, Kilometerzähler, Schaltposition und Schaltlichtanzeige
Competition Master Sicherheitsschalter
RFID Electronic Immobilizer System (zwei Anhänger)
Volles Licht Paket Standard
---
Engine electrical/Fuel
Indirect multi-port grouped fuel injection
Proprietary tuned Hondata engine management
High capacity fuel pump
Continuous flow Marwal 3.5 bar fuel pump
Twin Fuel Filters
10 gallon aluminum fuel tank
Indirekte Kraftstoffeinspritzung mit mehreren Anschlüssen
Proprietär abgestimmtes Hondata-Motormanagement
Kraftstoffpumpe
mit hoher Kapazität Marwal 3,5 bar Kraftstoffpumpe mit kontinuierlichem Durchfluss
Doppelkraftstofffilter
10-Gallonen-Aluminium-Kraftstofftank

Turbocharged Honda 2.4L i-VTEC (K24Z7)6-Speed Manual gearbox w/ limited slip differentialPerformance ClutchProprietary Intake/Exhaust SystemPrimary aluminum radiator (front)Secondary aluminum radiator (right pod)Air:Water intercooler (left pod)
Motor
Turbolader Honda 2.4L i-VTEC (K24Z7)
6-Gang-Schaltgetriebe mit Sperrdifferential
Leistung Kupplung
Proprietäres Ansaug- / Auspuffsystem
Primäraluminiumkühler (vorne)
Sekundäraluminiumheizkörper (rechter Seitenkasten)
Luft: Wasser Ladeluftkühler (linke Seitenkasten)
---

JRi adjustable dampers w/ 2 piece coil spring
Double unequal length fabricated wishbones
Aluminum bell cranks w/ needle roller bearings
Adjustable suspension pushrods
Adjustable inboard joint and outboard rod ends
Lightweight fabricated uprights
Quick Ratio alloy Rack & Pinion
Quick-Release motorsport suede steering wheel
Lenkung / Federung
JRi einstellbare Dämpfer mit zweiteiliger Schraubenfeder
Doppelquerlenker mit ungleicher Länge
Aluminium-Winkelhebel mit Nadellager
Einstellbare Stoßstangen für die Aufhängung
Einstellbares Innengelenk und außenliegende
StangenendenLeichtbau-Pfosten
Quick Ratio Legierung Rack & Pinion
Schnellwechsel-Wildleder-Lenkrad aus Wildleder
---
Alcon Motorsport Four-Piston Calipers
290mm Alcon Big Brake Kit w/2-Piece Vented Discs
Cockpit Adjustable Front/Rear Brake Bias
Tilton Adjustable Aluminum Pedal Box
Tilton Paired Front/Rear Master Cylinders
Full Length Stainless Steel Brake Lines
Performance Pad Fiction Material
Parking Brake Kit Standard
---
Chassis/body
Engineered Jig Utilization
Primary TIG / Secondary MIG welds
CNC Component Construction
244 point primary/secondary QC inspection
Powder Coat Finish (Chassis)
Hand Laid Gel-Coated Composite Body Panels
Wet Carbon Options (Bonnet, Dash Surround, Fenders, Airbox Cover/Snorkel
Engineered Jig Utilization
Primär WIG / Sekundär MIG Schweißnähte
CNC-Komponentenbau
244 Punkte primäre / sekundäre Qualitätskontrolle
Pulverbeschichtung (Chassis)
Handgelötete Gel-Coated Composite Body Panels
Wet Carbon Optionen (Motorhaube, Dash Surround, Kotflügel, Airbox Cover / Snorkel
| | |
| --- | --- |
| 2018 Ariel Atom 3RS | $119,995.00 |
| Seat Belt Pads (Full Set) | $150.00 |
| Custom Powder Coated Color | $1,665.00 |
| Premium Color Package: | $2,775.00 |
| Custom Color Wheels | $950.00 |
| Carbon Fiber Sport Package (Airbox/Snorkel/Bonnet) | $3,625.00 |
| Carbon Fiber Fenders | $1,490.00 |
| Carbon Fiber Instrument Surround | $975.00 |
| Lexan Side Panels | $400.00 |
| Carbon Fiber Wings (Front and Rear) | $5,995.00 |
| Race Grade Rod Ends | $1,750.00 |
| Race Needle Roller Bellcranks | $1,645.00 |
| Fire Suppression System | $675.00 |
| Track Brake Pads | $460.00 |
| Towing Eye Kit (With Wings) | $350.00 |
| SunTek Ultra Paint Protection Film | $1,995.00 |
| Fitted Car Cover – Indoor | $525.00 |
| Fitted Car Cover – Outdoor | $525.00 |
| High Intensity LED Rear Rain Light | $250.00 |
| CTEK Storage/Trickle Charger | $90.00 |
| Locking Fuel Cap | $75.00 |
| Subtotal: | $146,360.00 |

Verschiedenes Optionen
Standard:
• 12V Stromquelle (Zigarettenanzünderbuchse)
• Soziusfußstütze
" width="20″ height="20″>